Earth Science
Earth Science is the study of the materials that make up the Earth and the natural and human processes that shape the landscape. Earth scientists ask questions such as: What are the processes that shape our physical environment? Are environmental issues caused by natural systems or human society? Can a multidisciplinary approach to studying the Earth solve climate problems?
Put your education to work
Department of Geography courses will prepare you for a wide range of careers in industry, government, or education.
Our graduates are qualified to use knowledge of natural and human processes in their careers. Are you interested in international development? Natural resources management and socio-economic issues? An education in Earth Science provides you with a multidisciplinary approach to these topics.
Helping shape the landscape
Earth Science examines the Earth's make up and natural and human processes. The program has a problem-solving focus with the following themes:
climate and hydrology,
biosphere interactions,
global processes and change,
Earth science techniques.
You'll work across four disciplines of geography, geology, geophysics and archaeology to develop your understanding of how natural systems affect human culture – and are influenced by it.
This single, four-year interdisciplinary program is offered by the Department of Geography in the Faculty of Arts with collaboration from the Department of Geoscience in the Faculty of Science.
Since this is a restricted-entry program, students should contact the Earth Science Advisor as early as possible for proper advice regarding the program.
You will develop skills that are important to a wide range of professions in the Earth Sciences: critical and creative thinking, the ability to gather and organize information, the ability to analyze problems, effective oral and written communication skills, the ability to use logic and perform calculations, the ability to reason abstractly and apply that reasoning, interpretive and assessment skills, and insight and intuition useful in generating knowledge.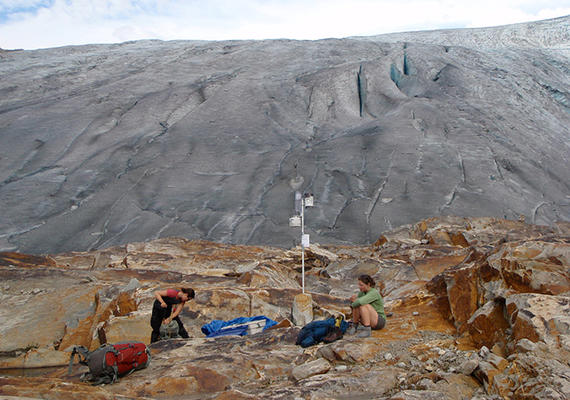 A unique place to study
Our unique location in southern Alberta provides a diverse laboratory for studying Earth Science. During the course of your studies, much of your learning will occur in class, field study and during labs.
Many of our courses combine traditional classroom learning with hands on experience, such as local and international field studies, computer mapping and analysis, laboratories and individualized research courses.
Learn more about minors, double majors or combined degrees
Programs in Earth Science cannot be taken in conjunction with programs in: Geography or Urban Studies. This restriction applies to Major-plus-Minor combinations, Double Majors, Combined Degrees and Second Baccalaureate Degrees because each of these programs integrates a substantial geography component.
Programs in Earth Science can be taken in conjunction with Environmental Science, Geology, Applied and Environmental Geology or Geophysics with approval from the Faculty of Arts. Consent is required for Major-plus-Minor combinations, Double Majors, Combined Degrees and Second Baccalaureate Degrees.
The Honours BSc program provides enhanced understanding of Earth Science, further develops competencies in field work techniques, research methods and presentation skills and helps prepare you for an advanced degree program.
Earth Science and APEGA Regulations
The practice of geology and geophysics in Alberta is governed by Provincial law and regulated by the Association of Professional Engineers and Geoscientists of Alberta (APEGA). The Earth Science program is not designed to meet those requirements. Persons intending to pursue geology or geophysics as a profession should obtain a BSc or BSc Honours in Geology or Geophysics.