Philosophy for Children
Bringing philosophy to kids, and kids to philosophy
The Philosophy for Children school program
The Philosophy for Children (P4C) program consists of eight 25-35 minute (depending on age level) in-class sessions over eight to 16 weeks (weekly or biweekly). Facilitators are professors, instructors and graduate students from the University of Calgary's Department of Philosophy. We work in collaboration with classroom teachers to establish class-specific goals for the program, and discuss strategies for instruction, classroom management, and collaborative facilitation. The program can be repeated (with different content), and is free of charge.
What is Philosophy for Children?
Philosophy for Children occurs in circles of learners. The circles include children and adults, including at least one classroom teacher.
In-class sessions address a specific philosophical topic or topics. Examples vary according to age, but might include:
What is a friend?
What is tattling?
What is fun?
What is rude?
Could there be two of you?
What is a good life?
Discussions proceed without the expectation of a "right answer." Participants are encouraged to share what they think about a topic, listen to what others say, and be open to revising their own views. This includes the adults in the circle – and the teacher too!
During the eight week session, components of a "tool kit" are introduced to deepen discussion and develop problem solving and reasoning skills. Each tool is summarized in a word or phrase. Some examples include:
"WHAT" do you mean by that?
What is the "REASON" you think that? (I think… "BECAUSE"…)
Can you give an "EXAMPLE" to support your view?
Are there any "COUNTER-EXAMPLES"?
Students and teachers all over the world are participating in Philosophy for Children. It is done in different ways in different places. Our approach is to allow student-centred, student-driven discussions that use basic philosophical tools to develop good thinking in a safe environment.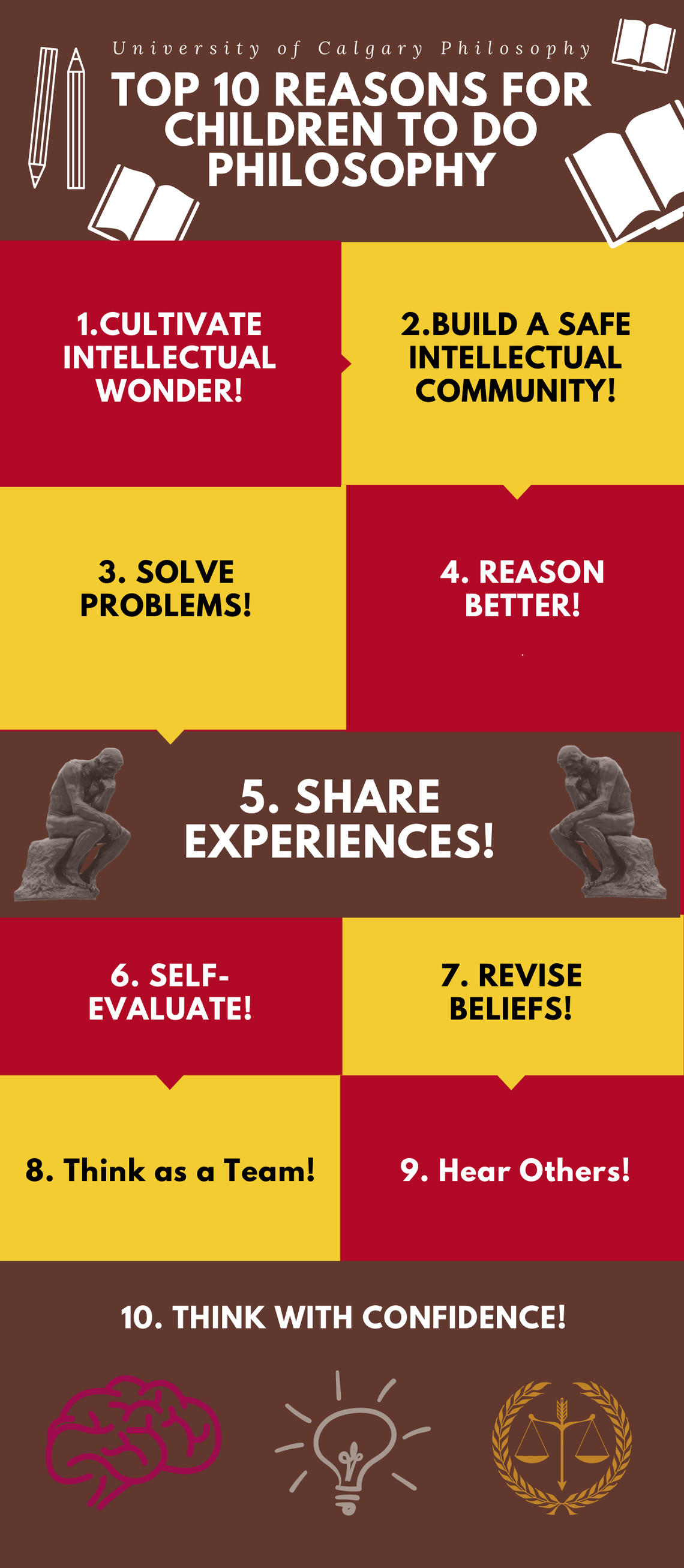 Interested in learning more about P4C?
Please contact us for more information about Philosophy for Children, or to inquire about participating.