Japan and me
A testimonial on the Japanese Program
Combined Bachelor of Arts in East Asian Language Studies (concentration in Japanese) and International Relations
Written by Sherry Yuan in October 2018.
Konnichi wa! Greeting from Japan. Currently, I am working at the Ibaraki Prefectural Government – Olympic and Paralympic Division, in Mito City, Ibaraki Prefecture, Japan. 
My experience at the Japanese Program has given me a remarkable international perspective on my future and even my life. I did not choose Japanese as major in the first place, but soon after, I found that Japanese is my real "soul mate". Japanese Program provides a lot of resources and opportunities for students to gain practical experience for their future careers. I started to become a Teaching Assistant at school in 2016 and a Peer Tutor in 2017. In 2017, I was successfully selected as a Student Representative for Japanese Program, and one year later, became a Student Group Leader. With the help of Dr. X. Jie Yang, I started to volunteer at the Consulate General of Japan in Calgary since 2015. All these experiences help to build my career today and allowed me to promote Japanese studies to junior schoolmates.
While as a student, I heard this fantastic opportunity from my Japanese instructors, the "JET Programme" (Japan Exchange and Teaching Programme), which brings college graduates to work in local governments or boards of education in Japan. I applied for the JET Programme in November 2017 and successfully became a JET CIR (Coordinators for International Relations) after graduated this year. Although the range of job duties for CIR is very broad and may vary on your placement, in my case, my duties include arranging pre-game training camps for various countries, helping to organize the Tokyo Olympic volunteer recruitment and Olympic torch rely, tutoring English to my Japanese colleagues, translating and interpreting between Japanese and English in various diplomatic occasions, and presenting Canadian culture to local Japanese residents etc.. I am very excited to see Tokyo Olympic coming in 2020, and as a Canadian CIR, I am also very proud to be a part of planning group for this greatest grand international sports event in the world.
I do enjoy my work life in Japan now, as well as the food, weather, landscape, people, and ambiance. I usually spent my weekends on my interests and travelling to balance between work and life. My colleagues treated me gently, and I can feel that my job is not just about money, but also meaningful and significant. I deeply appreciated all of my wonderful Japanese instructors at school. They built my success today.
Back talking to my experience at school, after a year studying Japanese, in 2013 I started to participate in the Alberta District Japanese Speech Contest and successfully won the 3rd place in the Beginning Category. In 2017, I returned to the contest and awarded 3rd prize in the Open Category at the National Japanese Speech Contest as the representative from Alberta.
In the summer of 2016, I started to take the JLPT (Japanese Proficiency Language Test) workshop offered by Instructor Ishikawa, and subsequently passed both N2 and N1 examination. This well-organized workshop offered by our Japanese program is a rare and efficient opportunity to for me to prepare for the JLPT exam. With the JLPT N1 certificate, I am one step close to reaching my dream in Japan.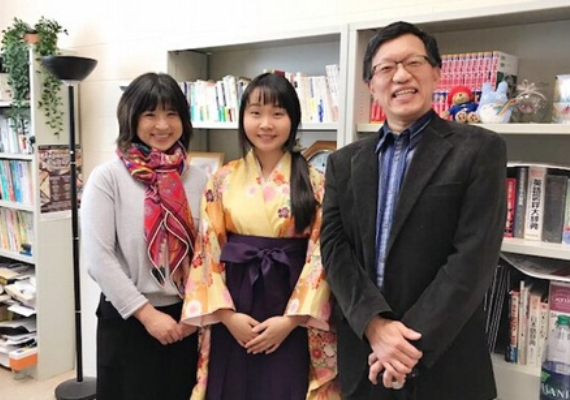 In March 2017, I participated a study board exchange program and spent 6 months studying Japanese at Ryukoku University in Kyoto, Japan. During my exchange, I also found a part-time job in Japan as an English-Japanese translator. This short-term studying and working experience in Japan also awarded me the success of passing the BJT (Business Japanese Test).
I am very proud to say that choosing to learn Japanese at the University of Calgary is one of the best decisions I have ever made in my life. Learning Japanese has become my keen interest now.  I always want to do further study after I finish my undergraduate degree and now I can see various options for me to work or study in Japan after graduated. I deeply appreciated all my Japanese instructors at school who encouraged and helped me as well as my other schoolmates with their warm and gentle heart and fervent attitude.
I believe graduation is not goodbye. It is another beginning of my experience, as well as a brand new start connecting my new life to the University of Calgary, the Japanese program, and my dear professors and schoolmates. I understand that it is a quite long process to transform your sweat to sweetness, but I promise that every effort you made at school will be rewarded in the future. When the hard times are over, your journey just begins. Like your predecessor, I hope my experience can encourage you. I wish you nothing but success in your future.