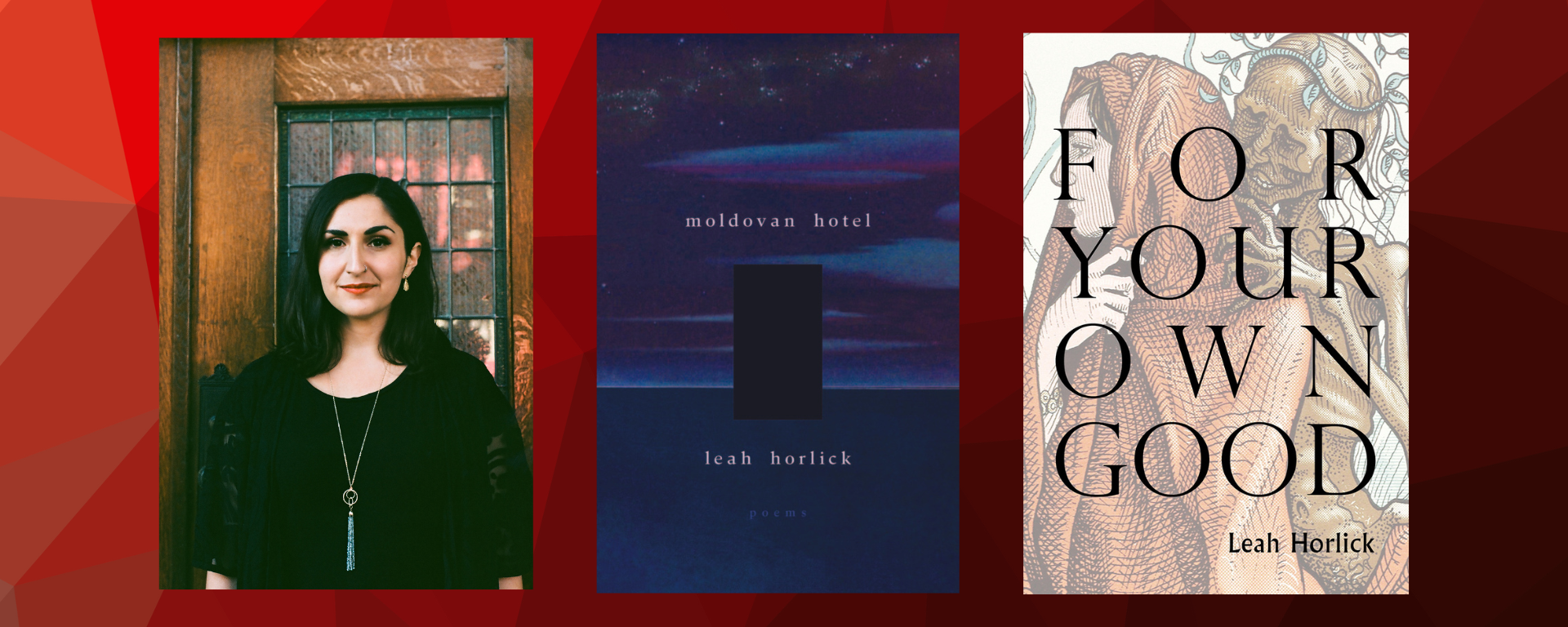 Leah Horlick
2022-23 Canadian Writer-in-Residence.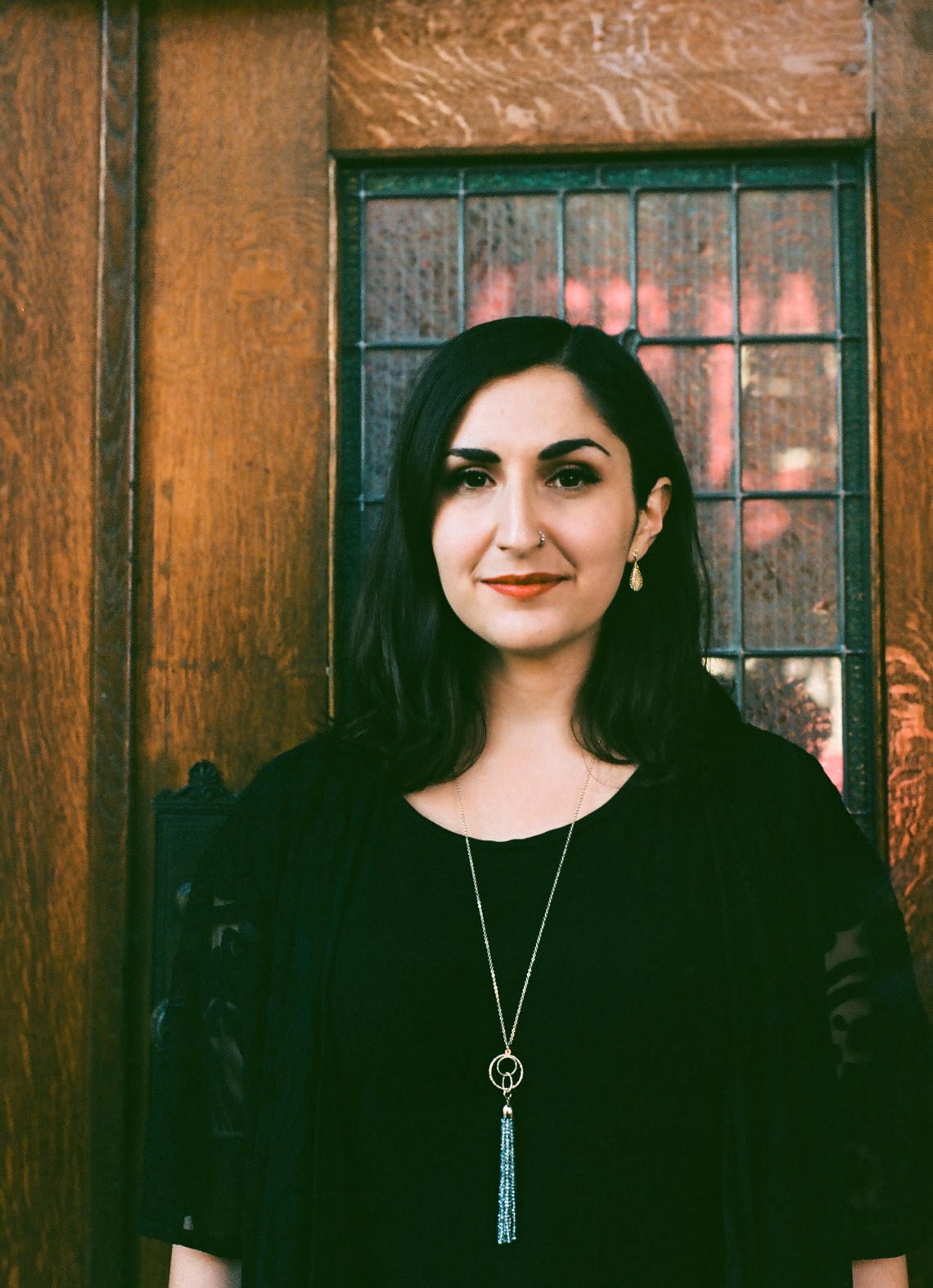 Erin Flegg
Leah Horlick is the author of three books of poetry. Her long-awaited, most recent collection Moldovan Hotel was released by Brick Books in spring 2021. Her debut, Riot Lung (Thistledown Press, 2012), was shortlisted for both a ReLit Award and a Saskatchewan Book Award. Her second collection, For Your Own Good (Caitlin Press, 2015), was named a Stonewall Honor Title by the American Library Association in 2016. That same year, she won the Dayne Ogilvie Prize, Canada's only award for LGBT emerging writers.
Leah is also the author of wreckoning, a chapbook produced with artist Alison Roth Cooley and JackPine Press. In 2018, her piece "You Are My Hiding Place" was named Poem of the Year by ARC Poetry Magazine and shortlisted for inclusion in the 44th Pushcart Prize. For five years, Leah and her dear friend Estlin McPhee ran REVERB, a queer and anti-oppressive reading series. After many years away, she now lives where she grew up: as a settler on Treaty Six Territory and the homelands of the Métis in Saskatoon.
Praise for Leah Horlick:
"Every poem in Moldovan Hotel is a room thick with ghosts. Here, Horlick takes the language of the past—used to dehumanize and unmoor—and crystalizes it around revelation after revelation. A graceful, striking collection." — Carmen Maria Machado
"If Leah Horlick's second book invited us to witness, this time she draws from her Jewish heritage and takes us back to show us how to read the landscape and mind-scape and tell us what the texts left out. This is an accounting, a calling, an invocation, a return, a skilful mediation on how to remember when the 'names of the oppressors are blotted out'." — Juliane Okot Bitek
"Leah Horlick's For Your Own Good may be the best book of poetry to come out of Canada this year." –Michael Dennis
"Sometimes it feels as though there are Poems About Important Issues and Good Poems, and the two camps rarely meet. For Your Own Good is a startling combination of the two, skillful poems both defiant and self-aware, and close to my femme heart. We need this book." – Zoe Whittall
In 2017, Leah travelled to Romania to revisit the region her Jewish ancestors fled. What she unearthed there is an elaborate web connecting conscious worlds to subconscious ones, fascism to neofascisms, Europe to the Americas to the Middle East, typhus to HIV/AIDS, genocide in Romania to land grabs in Palestine, women's lives in farming villages to queer lives in the city, language to its trap doors, and love to its hidden, ancestral obligations.
With force, clarity and searing craft, Horlick's poems are equal to the urgency of our political moment. "No one ever thinks they might be the dragon," Horlick writes, and yet history repeats its cruelties. This work takes things apart to put them profoundly back together.
In the canon of contemporary feminist and lesbian poetry, For Your Own Good breaks silence. A fictionalized autobiography, the poems in this collection illustrate the narrator's survival of a domestic and sexual violence in a lesbian relationship. There is magic in this work: the symbolism of the Tarot and the roots of Jewish heritage, but also the magic that is at the heart of transformation and survival.
These poems are acutely painful, rooted in singular and firsthand experiences. But Horlick also draws from a legacy of feminist, Jewish and lesbian writers against violence: epigraphs from the works of Adrienne Rich and Minnie Bruce Pratt act as touchstones alongside references to contemporary writers, such as Daphne Gottlieb and Michelle Tea.
In this reflection on grief, silence and community, we follow the narrator's own journey as she explores what it is to survive, to change, to desire and to hope. At once unflinching and fragile, For Your Own Good is a collection with transformation at its heart.
Recent obsessions: a reading list for National Poetry Month
TypicalIy, I love making lists. Putting together recommendations like these, however, is neither groceries nor chores and thus it makes me pretty anxious. Our community is very small. Many of us know one another. I often have a sense of being "behind" in what I "should" have read by now. Selecting books involves a lot of perseverating: Is the list too short? Why can't I just include everything from everyone I love? (Then the list would be too long!) Why can't I just tell everyone to read everything they can still get their hands on from Rahila's Ghost? (But I can! And I've just done it. And I mean it! You really should, if you can.)
But I do love to talk about what I've read. And I feel really strongly about opportunities to highlight books from small presses. So I added a few constraints to cut down on my ruminating: I wanted to highlight books I think about all the time during my recent writing bouts; books that are recent but not new, or part of the fresh fall 2022 or spring 2023 launch cycles; books that are exclusively from small and independent presses across colonial Canada; books I haven't blurbed; and those that I haven't already recommended elsewhere online. Some of these you can still buy from these publishers; others were very limited-edition and you may have to ask a bookworm to borrow, or sniff around a few libraries. (These are some of my favourite books to recommend or seek out on my own, because they often don't get enough attention, and also then you have a quest. I love a good quest.)
Most importantly, I wanted to highlight these incredible texts for their expansive and powerful use of form, their rich and fraught emotional landscapes, and how they've taught me to think about poetry in new ways. Many of you know I'm writing a novel for the first time as part of my residency. While it might sound counterintuitive, these works of poetry have brought me a deep sense of possibility and hope while I explore working in a new discipline. I'm very grateful to the authors and their publishers for bringing these books into the world. Happy National Poetry Month!
- Leah
ʔbédayine by Kaitlyn Purcell (Metatron, 2019)
In Edmonton, Ronnie learns what it is to be a young Indigenous woman, almost-alone in the city; unable to hear herself over its noise, see through the glare of its lights to find the ground beneath her feet. Stories of addiction, self-discovery, and the love of a good friend come together to form ʔbédayine, Kaitlyn Purcell's breathtaking debut.
New Infinity by Bára Hladik (Metatron, 2022)
New Infinity is an experimental novella that follows a woman as she lives and dreams her way through the philosophical implications of autoimmune disease. Met by a labyrinth of closing doors, she searches for meaning and connection among fragmented realities and failed relationships, finding infinitude in the healing process of bibliomancy. Where physical health and financial resources grow scarce, the restorative possibilities of queer love, divination, and self-reclamation grant a defiant, yet often tenuous, abundance. Alive with Hladík's boundless insight and wit, New Infinity is a powerful addition to the collective body of disability literature.
Bones by Tyler Pennock (Brick, 2020)
Bones, Tyler Pennock's wise and arresting debut, is about the ways we process the traumas of our past, and about how often these experiences eliminate moments of softness and gentleness. Here, poems journey inward, guided by the world of dreams, seeking memories of a loving sister lost beneath layers of tragedy and abuse. With bravery, these poems stand up to the demons lurking in the many shadows of their lines, seeking glimpses of a good that is always just out of reach.
Grey All Over by Andrea Actis (Brick, 2021)
Late in the evening of December 13, 2007, Andrea Actis found her father, Jeff, facedown dead in her East Vancouver apartment. So began her passage through grief, self-reckoning, and graduate school in Providence, Rhode Island, where the poetics she studied (and sometimes repudiated) became integral to her gradual reconstruction of wholeness. Grey All Over not only celebrates a rare, close, complicated father-daughter bond, it also boldly expands the empathetic and critical capacities of poetry itself. In pulling us outside the comfort zones of received aesthetics and social norms, Actis asks us to embrace with whole seriousness "the pragmatics of intuition" in all the ways we read, live, and love. 
Remitting by Nisa Malli (Baseline, 2019)
2020 bpNichol prize judges' citation: Remitting delicately weaves contemporary lyric with the precise registers of medical and conversational speech. Nisa Malli…is an assured and singular voice with an "unwillingness/to be bent like a bird's wing." Baseline publisher Karen added "I couldn't be more grateful that Baseline had the opportunity to publish Nisa Malli's Remitting. When I received Nisa's manuscript – a collection of intimate, haunting poems which focus on chronic illness and pain – I was completely drawn in by the way she placed the gorgeous beside the dark, and the work that these poems did. Many thanks to Nisa for entrusting Baseline to share them with the world. Ongoing thanks to the Meet The Presses collective, for giving the small press community a space to gather and connect, and to this year's contest judges, Canisia Lubrin and Souvankham Thammavongsa.
Visit the CDWP's 2023 National Poetry Month bookshelf on Goodreads to add these titles to your want to read list.
Skillshare for Emerging Poets
In 2021, Leah held a blog residency with OpenBook in celebration of National Poetry Month. Designed as a free, digital skillshare series for emerging poets, the blog focuses on topics such as:
Boundaries and privacy on the Internet
Protecting yourself at in-person poetry readings
Money and the work of writing for a living
Transferable strategies and skills from artists creating in other mediums
Hello/Goodbye with Teresa Wong and Leah Horlick