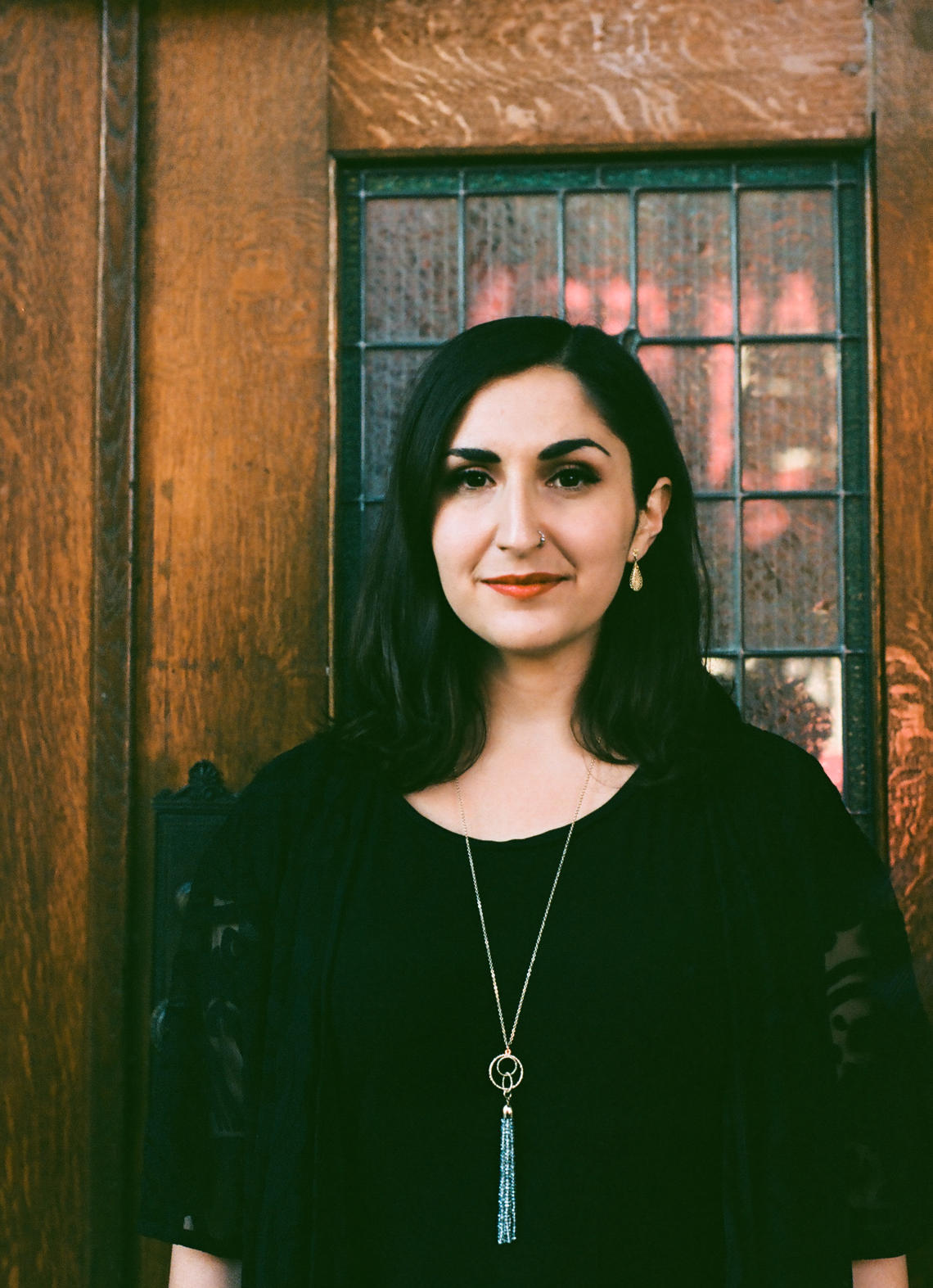 Erin Flegg
Leah Horlick is the author of three books of poetry. Her long-awaited, most recent collection Moldovan Hotel was released by Brick Books in spring 2021. Her debut, Riot Lung (Thistledown Press, 2012), was shortlisted for both a ReLit Award and a Saskatchewan Book Award. Her second collection, For Your Own Good (Caitlin Press, 2015), was named a Stonewall Honor Title by the American Library Association in 2016. That same year, she won the Dayne Ogilvie Prize, Canada's only award for LGBT emerging writers.
Leah is also the author of wreckoning, a chapbook produced with artist Alison Roth Cooley and JackPine Press. In 2018, her piece "You Are My Hiding Place" was named Poem of the Year by ARC Poetry Magazine and shortlisted for inclusion in the 44th Pushcart Prize. For five years, Leah and her dear friend Estlin McPhee ran REVERB, a queer and anti-oppressive reading series. After many years away, she now lives where she grew up: as a settler on Treaty Six Territory and the homelands of the Métis in Saskatoon.
Praise for Leah Horlick:
"Every poem in Moldovan Hotel is a room thick with ghosts. Here, Horlick takes the language of the past—used to dehumanize and unmoor—and crystalizes it around revelation after revelation. A graceful, striking collection." — Carmen Maria Machado
"If Leah Horlick's second book invited us to witness, this time she draws from her Jewish heritage and takes us back to show us how to read the landscape and mind-scape and tell us what the texts left out. This is an accounting, a calling, an invocation, a return, a skilful mediation on how to remember when the 'names of the oppressors are blotted out'." — Juliane Okot Bitek
"Leah Horlick's For Your Own Good may be the best book of poetry to come out of Canada this year." –Michael Dennis
"Sometimes it feels as though there are Poems About Important Issues and Good Poems, and the two camps rarely meet. For Your Own Good is a startling combination of the two, skillful poems both defiant and self-aware, and close to my femme heart. We need this book." – Zoe Whittall
In 2017, Leah travelled to Romania to revisit the region her Jewish ancestors fled. What she unearthed there is an elaborate web connecting conscious worlds to subconscious ones, fascism to neofascisms, Europe to the Americas to the Middle East, typhus to HIV/AIDS, genocide in Romania to land grabs in Palestine, women's lives in farming villages to queer lives in the city, language to its trap doors, and love to its hidden, ancestral obligations.
With force, clarity and searing craft, Horlick's poems are equal to the urgency of our political moment. "No one ever thinks they might be the dragon," Horlick writes, and yet history repeats its cruelties. This work takes things apart to put them profoundly back together.
In the canon of contemporary feminist and lesbian poetry, For Your Own Good breaks silence. A fictionalized autobiography, the poems in this collection illustrate the narrator's survival of a domestic and sexual violence in a lesbian relationship. There is magic in this work: the symbolism of the Tarot and the roots of Jewish heritage, but also the magic that is at the heart of transformation and survival.
These poems are acutely painful, rooted in singular and firsthand experiences. But Horlick also draws from a legacy of feminist, Jewish and lesbian writers against violence: epigraphs from the works of Adrienne Rich and Minnie Bruce Pratt act as touchstones alongside references to contemporary writers, such as Daphne Gottlieb and Michelle Tea.
In this reflection on grief, silence and community, we follow the narrator's own journey as she explores what it is to survive, to change, to desire and to hope. At once unflinching and fragile, For Your Own Good is a collection with transformation at its heart.
Skillshare for Emerging Poets
In 2021, Leah held a blog residency with OpenBook in celebration of National Poetry Month. Designed as a free, digital skillshare series for emerging poets, the blog focuses on topics such as:
Boundaries and privacy on the Internet
Protecting yourself at in-person poetry readings
Money and the work of writing for a living
Transferable strategies and skills from artists creating in other mediums