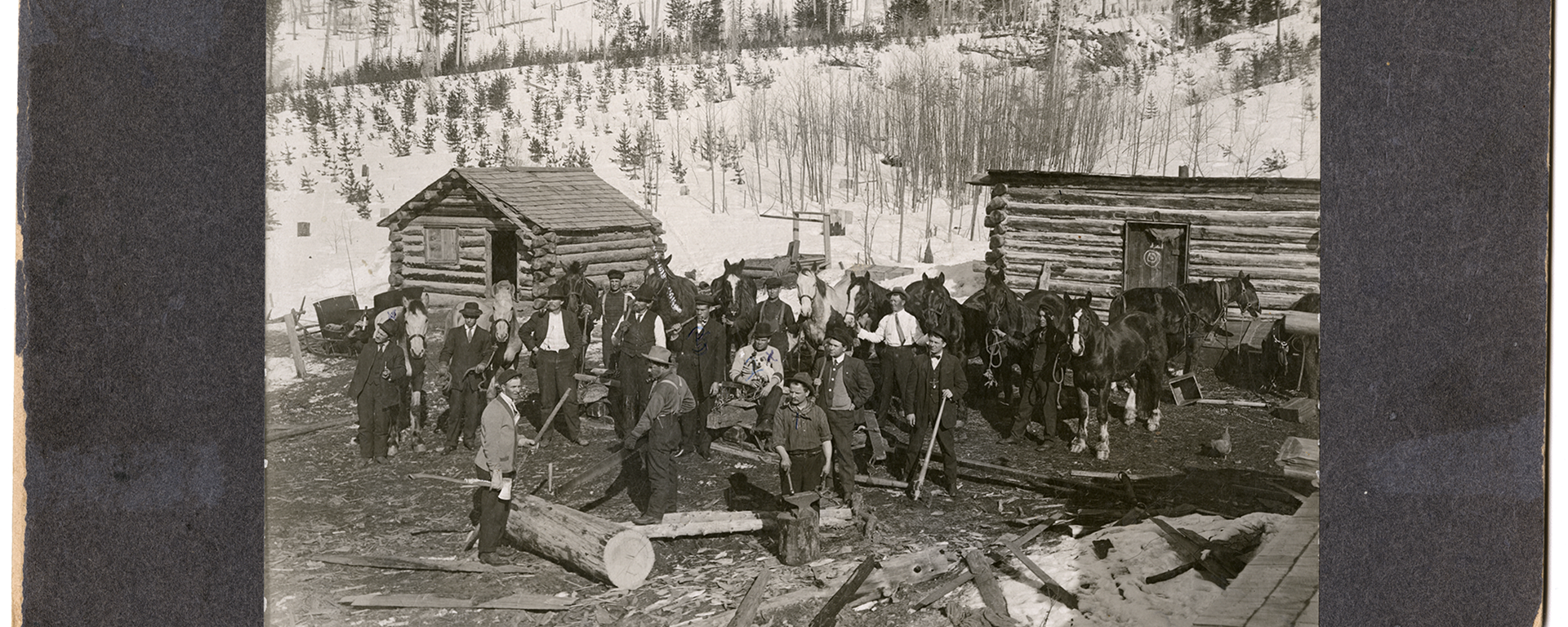 Certificate in Canadian Studies
Ever wonder why Canada gets named one of the best places in the world to live? Build a better understanding of the country. Become an ambassador! Learn and share with the world the elements that make Canada unique and special.
Enhance your degree with the interdisciplinary study of Canadian topics and themes. This certificate is open to any major field of study at UCalgary. Examine Canada through a historical lens and method in your two core courses. Then explore the study of Canada from the perspectives of at least two other disciplines in your elective courses.
Talk to a program advisor about adding the certificate to your degree.
"Logging at Blairmore, Alberta.", [ca. 1900-1905] (CU1229519) by Photographer Unknown. Courtesy of Libraries and Cultural Resources Digital Collections, University of Calgary
As easy as 1,2,3
Follow these steps to enroll in the certificate
Requirements
To earn the embedded certificate in Canadian Studies, students will complete 2 core courses (6 units) and an additional 12 units from the field of Canadian Studies. 9 units must be at the senior level, including at least 3 units at the 400 level or higher.
By the end of the certificate, successful students will be able to: 
Express a nuanced and historically-aware understanding of the development of Canada and Canadian society, including Indigenous-settler relations and settlement of various Canadian regions, the development of the Canadian nation, federal-provincial relations, economic development, and social movements. This outcome is assured by the two core courses in Canadian history. 
Draw upon interdisciplinary methods and approaches to Canadian history, society, culture, and issues. As disciplines have themselves become more interdisciplinary over the past few decades, this outcome is assured through exposure to interdisciplinary methods within various subject areas. 
Draw upon the approaches and methods of different disciplines to Canadian history, society, culture, and issues. This outcome is assured by the requirement that students complete courses from three subject areas. 
Formulate and communicate analyses and arguments from a variety of disciplinary and interdisciplinary perspectives. This outcome is assured through various forms of written and oral assessment in the courses that make up the certificate. Requiring at least one course at the 400 level or higher ensures an advanced level of communication and assessment.