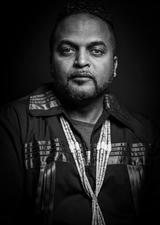 Andrew Jolivétte (2021)
Creative Writing as Mixed Race Embodiment: Queer Afro-Indigenous Futurity and Kinship
Dr. Andrew Jolivétte (Atakapa-Ishak Nation of Louisiana [Tsikip/Opelousa/Heron Clan]) is Professor and Chair of the Ethnic Studies Department at the University of California, San Diego as well as the  founding Director of Native American and Indigenous Studies at UC San Diego. He is the author or editor of nine books, in print or forthcoming including the Lammy Award nominated, Indian Blood: HIV and Colonial Trauma in San Francisco's Two-Spirit Community. His scholarship examines Native American, Indigenous, Creole, Black, Latinx, Queer, Mixed-Race, and Comparative Critical Ethnic Studies. 
Centering embodied lived experiences from the vantage point of Afro-Indigenous, queer, and mixed-race peoples, this talk explored themes of justice, joy, loss, healing, and kinship futures. How might creative writing, poetry, and memoir be activated as transformative tools to lead to radical love, communal restoration, and sustainable futures for all peoples in a time of social, cultural, spiritual, and political reckoning? Readings from the manuscript, Gumbo Circuitry: Poetic Routes, Gastornomic Legacies (That Painted Horse Press, March, 2022)  addressed the question of creative writing as a transformative tool.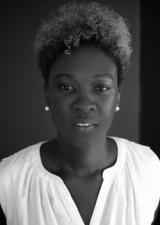 Canisia Lubrin (2019)
Of Crossroads and Other Traditions: Writing at the End
Canisia Lubrin is a writer, editor, critic and teacher published and anthologized internationally, including translations of her work into Spanish and Italian. Her writing has been nominated for the Toronto Book Award, bp Nichol award,  Raymond Souster award, Journey Prize, Gerald Lampert, Pat Lowther award, and received York University's President's Prize in poetry and Sylvia Ellen Hersch Memorial award. Lubrin has collaborated on numerous cross-disciplinary and inter-arts projects for theatre, radio, dance, TV, visual arts, and music. She is the author of the chapbook augur (2017), the poetry collection Voodoo Hypothesis (Buckrider Books, 2017), named a CBC Best Book and, the forthcoming, The Dyzgraphxst (McClelland & Stewart, 2020). Lubrin is the fall 2019 Writer-In-Residence at Queen's University and poetry faculty at the Banff Centre for the 2019 Emerging Writers Intensive. She holds an MFA from the University of Guelph.
Catherine Hernandez (2019)
Public Incubation
Catherine Hernandez is the Artistic Director of b current performing arts and the award-winning author of Scarborough (Arsenal Pulp Press). Scarborough won the 2015 Jim Wong-Chu Award, was shortlisted for the Toronto Book Award, the Evergreen Forest of Reading Award, Edmund White Award for Debut Fiction, the Trillium Book Award; and longlisted for Canada Reads 2018. It made the "Best of 2017" list for the Globe and Mail, National Post, Quill and Quire, and CBC Books. It is now being adapted into a full-length film by Compy Films, Telefilm and Reel Asian Film Festival.
With roots in theatre, Catherine Hernandez incorporates the same philosophy of "Wrong and Strong" and "Failing Brilliantly" while developing her novels. This has meant actively incorporating feedback from the first draft to the final manuscript. This evening, attendees can engage in a discussion on this brave process and how it keeps this artist's heart open and ego in check.
Camilla Gibb (2016)
The Writer as Anthropologist
Camilla Gibb is the author of four internationally acclaimed novels: Mouthing the Words, The Petty Details of So-and-so's Life, Sweetness in the Belly and The Beauty of Humanity Movement, and most recently a memoir, This is Happy. She has been the recipient of the Trillium Book Award (for best book in Ontario), the City of Toronto Book Award, and the CBC Canadian Literary Award, and has been shortlisted for the Scotiabank  Giller Prize and the 2016 RBC Taylor Prize.  
Camilla is an adjunct faculty member of the graduate creative writing programs at Guelph-Humber, the University of Toronto, and the Humber School for Writers, and is currently the June Callwood Professor in Social Justice at Victoria College, University of Toronto.