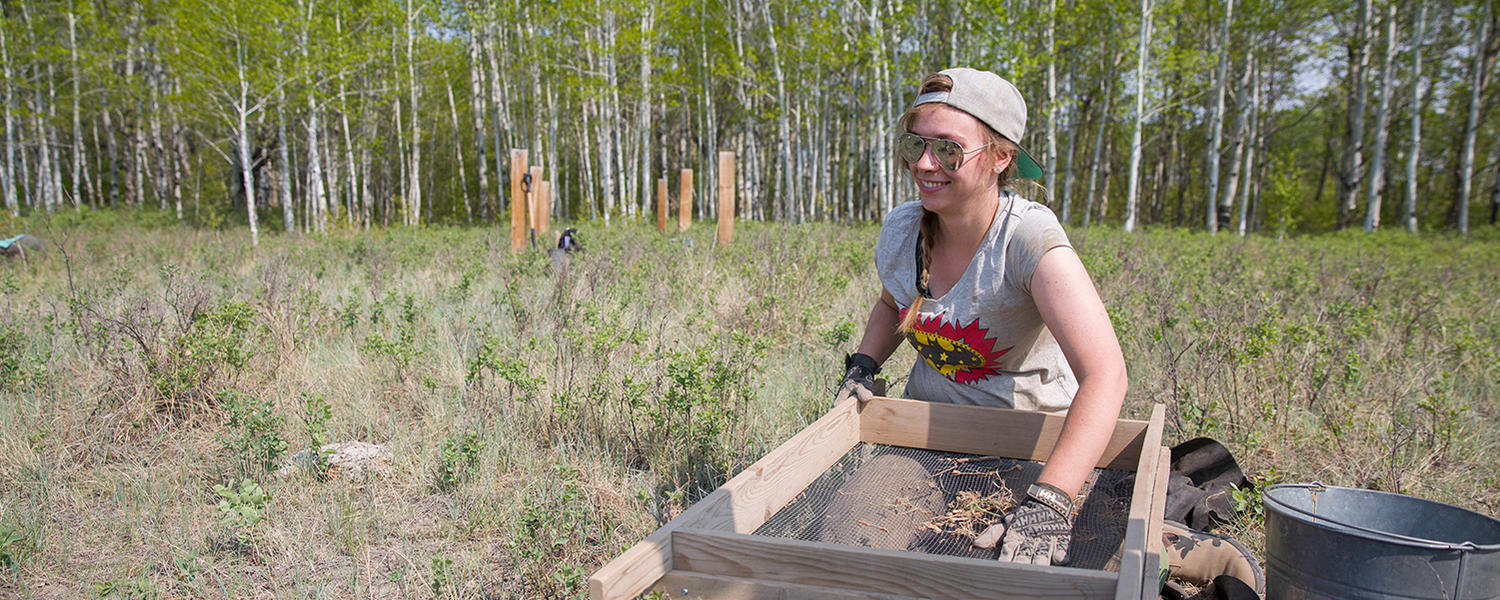 FAQ
about the Public Archaeology Program
Can I change or cancel my registration?
You can change or cancel your registration, however we ask that you give us as much notice as possible so that we can prepare for each date accordingly.
Is there a minimum number of days required for registration? What about a maximum?
We recommend that you register for a minimum of two dates so that you get the full excavation experience (these dates do NOT have to be consecutive). You'll receive a site tour and training in archaeological excavation techniques on your first day, which usually takes half a day. Participating on a second date allows you to experience all aspects of the excavation. There is no limit to the number of dates for which you can register.
Is there a registration deadline?
There is no registration deadline, however there are a limited number of spots available each day. Dates often fill up quickly, so we recommend that you register as soon as possible!
Is there a cost?
There is no cost for the program, however there is a daily park admission fee of $15.00 + GST for adults and $10.00 + GST for seniors or children, payable at the Blackfoot Crossing Historical Park Interpretive Centre on each day of participation. Cash, debit, and credit cards are accepted.
Do I need any experience or prerequisites?
No previous experience in archaeological excavation or academic courses are required to participate in the program. Training in archaeological excavation techniques are provided on site and volunteers will be supervised by experienced University of Calgary graduate students.
Can I get academic credit?
Academic credit cannot be provided for participation in the program. However, we are happy to provide you a letter indicating your number of volunteer hours and the type of work performed. University students who want academic credit should register for the Cluny Field School Course (ARKY 306/506) at the University of Calgary.
Is there a waitlist for full dates?
All unavailable dates have an ongoing waitlist. Should participants cancel or spots become available volunteers on the waitlist will be contacted to register for that date.
Volunteer info
Find all the information you need to volunteer for the Public Archaeology Program!
Can I bring my kids?
Kids over the age of 12 are welcome to participate in our excavation. All individuals under the age of 18 must be accompanied by a guardian or supervisor.
Can I bring my pets?
No pets are allowed on site.
Where is the site and how do I get there?
The site is located approximately one hour's drive east of Calgary, Alberta, off Highway 1. From Calgary, drive east on Highway 1 (Trans-Canada Highway) for approximately 100 kilometres, turn right at the town of Cluny, then drive 7 kilometres south on Highway 842. The turnoff for the Interpretive Center will be on the right. Program staff will meet participants in the interpretive center parking lot at 9 a.m. on excavation days. Look for the white vans!
Is transportation provided?
Transportation to the Blackfoot Crossing Historical Park Interpretive Centre is not provided. The program provides participants with transportation from the Interpretive Centre to the site. However, if the roads are in bad condition please be prepared to walk from the Interpretive Centre to and from the site. This walk includes rough terrain and a steep incline.
Are there any accommodations at the park?
There are no accommodations at the park. The nearest hotels are located in Strathmore and Gleichen, approximately a 30 and 10 minute drive from the park, respectively. Camping is also available in the area.
What kind of work will I do
Archaeological excavations require physical activity including kneeling, bending, and lifting. You will participate in all archaeological excavation activities including digging, screening, recording artifacts, note-taking, and unit mapping.
Are there any facilities available during the day?
There are no food or water facilities available on-site. Porta potties are provided.
What do I need to bring?
You must bring your own lunch, water and water bottles, sun screen, bug repellent, hats, work gloves, and wear weather-appropriate clothing. Please check the weather forecast and plan accordingly. For safety reasons, close-toed shoes are required to participate in the excavations. No personal vehicles are allowed at the site. The program will provide all archaeological excavation equipment.
What if the weather is bad?
In case of heavy rain or other severe weather, all work will be cancelled for the day. The program will attempt to contact you either the night before or early on the day of excavation, however please note that this is not always possible. Changing weather conditions in the field may require cancellation of the workday while at the site. In either case, no refunds of the Blackfoot Crossing Historical Park admission fee or costs relating to travel to the park will be provided. You may re-register for alternative participation dates, but there is no guarantee that there will be other dates available in the excavation program. The Public Archaeology Program, the Department of Anthropology and Archaeology, and the University of Calgary are not responsible for cancelled registrations or cancellations as the result of severe weather conditions.
How long is the work day?
You will meet program staff at the Blackfoot Crossing Historical Park Interpretive Centre parking lot at 9:30 AM each day. Work will finish between 3:00 and 3:30 PM, and you will be driven back to the Interpretive Centre.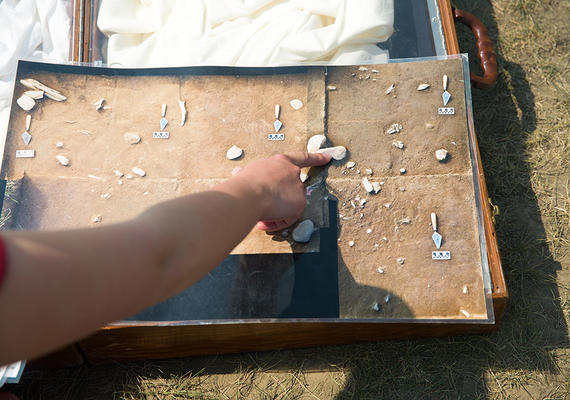 Registration
Experience archaeological excavation first hand or be a part of our Laboratory Analysis Program!
Is this a real excavation or is it staged?
The excavations at the Cluny Fortified Village site are completely real! You will have the opportunity to participate in all aspects of the excavation. You will contribute to an active research project examining the past lifeways of the Cluny Fortified Village people and their interactions with the local Blackfoot people 300 years ago. The precise procedures we use at the site allow us to collect the information needed to make interpretations about the past.
What happens to the artifacts that I get to excavate?
All artifacts from the site are the property of the Siksika Nation and, ultimately, will be stored at Blackfoot Crossing Historical Park Interpretive Centre.
Can I take pictures?
You may take pictures and post your experiences to social media, however no images may be used in professional publications (news media, articles, books, advertisements, etc.) without permission from Site Director Dr. LIndsay Amundsen-Meyer.
Please tag @UCalgaryArts in your pictures on Twitter, Facebook and Instagram!