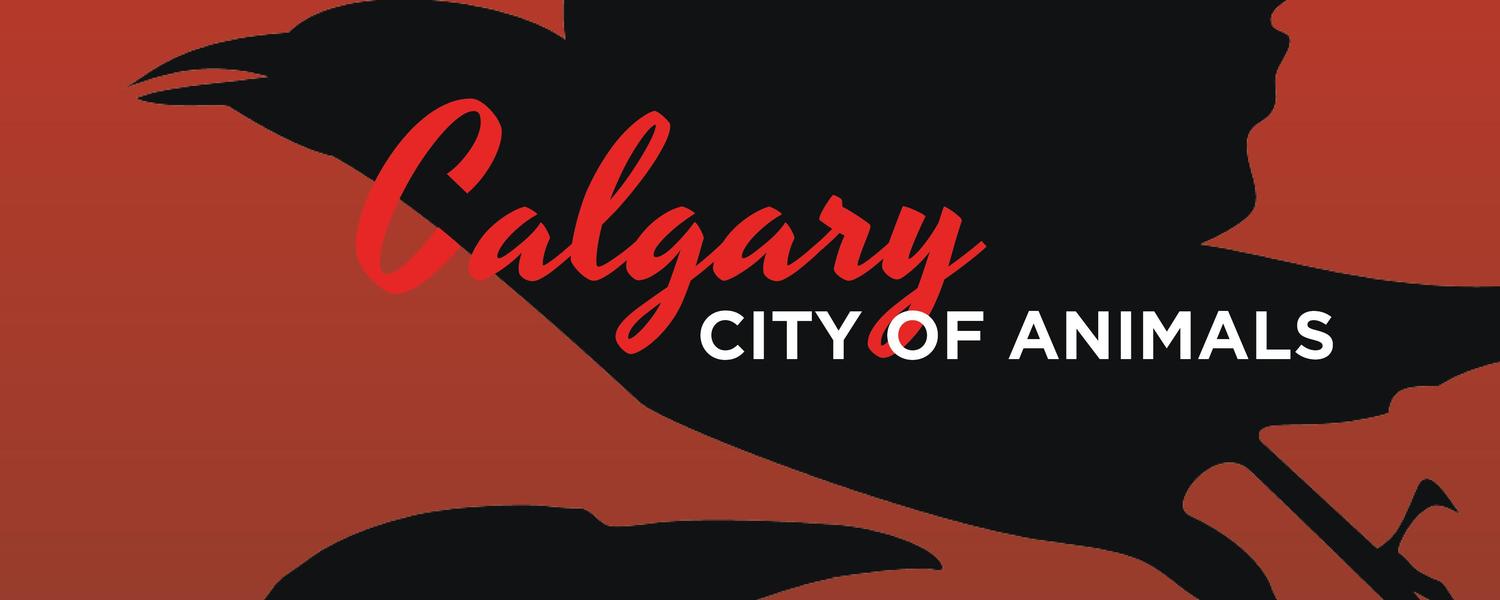 Calgary: City of Animals
2016 Annual Community Forum
From its beginnings, the history of Calgary is a not just a story of humans, but one of animals as well.  The fur trade, cattle ranching, and the Greatest Outdoor Show on Earth have all left profound marks on the city's culture and geography. The Community Seminar, "Calgary: City of Animals", explored the history of Calgary from the perspective of the non-human animals with whom we share the city's spaces, and which have helped to shape the city's past, present and future.
The relationship of animals and humans has been the subject of philosophical and ethical reflection since ancient times.  In our contemporary world, the question of our relation to animals has become one of increasing relevance and indeed urgency.  From new developments in animal cognition, to concerns about mass extinctions, we are challenged to think anew about how we live with animals. In the academy, the rise of the field of Animal Studies has brought new attention to the question of the animal, and the roles that animals have played in human history.  More recently, the perspective of Critical Animal Studies has pushed the boundaries of this questioning even further, considering the moral and legal rights of individual animals.  This seminar examined some of the issues in relation to our own city and community.
"Calgary: City of Animals", brought three scholars from the fields of history, animal studies, and geography together with members of the Calgary community, to discuss the role that non-human animals have played and continue to play in the life of our city.  The seminar examined how our interaction with animals has shaped Calgary, and the traces they have left on the city's geography and identity.  We considered the routes that animals have taken through the city, and the places where they currently live.  We thought about the different ways we categorize urban animals -- wild and domestic, livestock and entertainers – and considered the implications of these categories.  Most importantly, we thought about the implications of seeing the city as an ecosystem that includes animal life, and the implications of seeing humans as one animal among many in the urban biome.
Shelley Alexander
Department of Geography, University of Calgary
SHELLEY ALEXANDER is an Associate Professor in the Department of Geography, University of Calgary. She has 25 years of experience studying wolves and coyotes in Canada, and is an established expert with numerous publications in the areas of Conservation GIS, Road Ecology, and Human Dimensions of Wildlife. Shelley's Canid Conservation Science Lab practices Compassionate Conservation, using only non-invasive methods in wildlife research. Through the Calgary Coyote Project (2005 – 2012), she and her students published widely on human-coyote conflict, coyote diet, media portrayal of coyotes, and she spearheaded Living with Coyotes, an on-line citizen science program. That research continues to be the most comprehensive examination of urban coyotes in Canada. In 2015, she received a SSHRC scholarship, launching the Foothills Coyote Initiative - examining human-coyote relationships on rural residential and agricultural lands near Calgary. Shelley's research collaborations include: swift fox critical habitat analysis (Calgary Zoo), road effects in the Yucatan, MX (University de Campeche), and habitat modeling for Painted Dogs (Painted Dog Research, Zimbabwe). Shelley is a member of the Board of Directors, Society of Conservation Biology (North America) and the Science Advisory Board, Project Coyote, USA. She also enjoys time with her family, dogs, and is an avid horsewoman.
Sean Kheraj
Department of History, York University
SEAN KHERAJ is Associate Professor of Canadian and environmental history in the Department of History at York University in Toronto, Ontario. He is also a co-editor of niche-canada.org (Network in Canadian History and Environment) where he hosts and produces Nature's Past: Canadian Environmental History Podcast. His current research looks at the interrelationship among humans, non-human animals, and urbanization in Canada. His research aims to understand how historical changes in urban human-animal relations transformed cities and changed human ideas about their relationship with non-human nature.
Susan Nance
Campbell Centre for the Study of Animal Welfare and Department of History, University of Guelph
SUSAN NANCE is Associate Professor in the Department of History and affiliated faculty with the Campbell Centre for the Study of Animal Welfare at the University of Guelph. She is a historian of entertainment, communication, and live performance, with special attention to historical animal life. Susan is currently working on a book-length study tentatively entitled, Born to Buck: Rodeo Animals and the Myths of the West. This project takes her questions about how modernity has shaped animal and human life to the North American West and beyond, and brings together the fields of animal, environmental, consumer, and entertainment history.
Find Susan online at susannance.com.
CIH 2016 Community Forum - Calgary: City of Animals - Full Show
The following community links include selected organizations that are relevant to the topic of this year's community forum. 
Environmental Groups
Government Organizations
Urban Parks
Conservation