Public Humanities Fellowships
Spring/Summer 2022
Established in 1976, the Calgary Institute for the Humanities (CIH) fosters advanced study and research in a broad range of subject areas. We are multi-disciplinary and multi-faculty orientated. We support research in traditional Humanities disciplines such as languages and literature, history, religious studies, philosophy, as well as in philosophical and historical aspects of the social sciences, arts, sciences, and professional studies. The humanities are not conceived as a specific group of academic disciplines, but as forms of study that examine what is human – typically guided by literature, history, social and physical settings, artifacts, visual and performing arts.
Meet the 2021 Public Humanities Fellows
We have set out to partner community organisations with highly skilled doctoral students in the Humanities to collaborate on an organisation-specified project over the course of 12 weeks in summer 2021. The aims are to help the students to acquire new kinds of learning and experience in a non-academic setting, to help community organisations understand how they can benefit from the skills offered by Humanities graduates, and to cultivate strong collaborative networks for supporting arts, culture and social justice in our communities.
We are delighted to report that we will have three placements happening in summer 2021.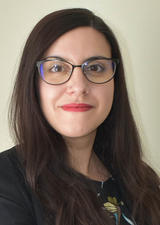 Monica Di Rosa
PhD Candidate in Greek and Roman Studies
Department of Classics and Religion
Monica Di Rosa will be will be working with the Centre for Sexuality on a project entitled "Bringing 50 Years of the Centre for Sexuality to Life".
Centre for Sexuality is a nationally recognized, community-based organization delivering programs and services that address sexual health issues in a comprehensive way. They have been leading the way in the areas of sexuality, healthy relationships, human rights, gender identity, sexual orientation, equality and consent for more than 48 years in the Calgary community. The Centre for Sexuality was looking for a public humanities fellow to bring their archives to life. Monica will assess the Centre's archives and produce a history and time-line to be used in support of the organization's fiftieth anniversary celebrations in 2022.  Further, she will identify potential stories and personalities that exemplify the Centre's role in the feminist and LGBTQ2S+ movements over its history.
Monica's studies have long had her evaluating and interpreting primary historical sources and she also has extensive archival research experience, including a Diploma in Archival Science, Latin Palaeography and Diplomatics from the State Archive of Bologna. Her doctoral dissertation focuses on her interest in understanding social relationships and multiculturalism in the city of Rome during from the first to the fifth centuries CE, but she also has experience working in modern archives. In 2014 she held an internship at the Biblioteca Italiana delle Donne, a library created by a feminist collective and which holds major collections of material dedicated to feminist movements and gender studies.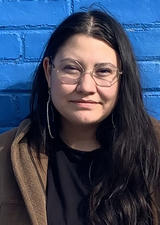 Kaitlyn Purcell
PhD Student in English and Creative Writing
Department of English
Kaitlyn Purcell will be working with the Esker Foundation on a project entitled "Youth Engagement and Decolonizing Gallery Space".
Esker Foundation is a privately funded contemporary art gallery located in Calgary, which connects the public to contemporary art through relevant, accessible, and educational exhibitions, programs, and publications. The gallery reflects on current developments in local, regional, and international culture; creates opportunities for public dialogue; and supports the production of ground-breaking new work, ideas, and research. Esker Foundation was looking for a Public Humanities Fellow to assist in the development of a new youth initiative. Kaitlyn will be responsible for reviewing and assessing models for, and research on, youth engagement activities as a means of decolonizing gallery/museum space. She will also be responsible for reviewing and assessing additional decolonizing methodologies that de-center the Eurocentric view, challenge white supremacy, and value alternative narratives, and that may be mapped onto decolonization work by youth in the gallery.
Kaitlyn is Denesuline and a member of Smith's Landing First Nation (Treaty 8 territory). She is also a member of the Writing Revolution in Place creative research collective based in Treaty 6 territory. She is the recipient of numerous writing awards, including the Metatron Prize for her debut poetic novella ʔbédayine (Spirit). Her doctoral research centers storywork methodology and rhetorics of the medicine wheel to create an ethical space for creative praxis as healing. Her work meditates on recovery, ecology, and intergenerational survivance. It will be presented through multi-modal creative productions such as creative writing, visual, digital, and installation arts.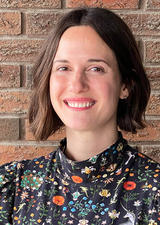 Rebecca Geleyn
PhD Candidate in English and Creative Writing
Department of English
Rebecca Geleyn will be working with the Calgary Catholic Immigration Society on a project entitled "Representation of Cultural Safety in Physical Space".
Calgary Catholic Immigration Society (CCIS) is a non-profit organization that offers settlement and integration support and services to all immigrants and refugees in Calgary and Southern Alberta. The largest immigrant serving agency in the Prairies, CCIS, combined with their volunteer collective, is represented in almost every cultural, faith based, and linguistic background observed in the changing makeup of Calgary. CCIS was looking for a public humanities fellow to contribute to the framework of a Cultural Responsiveness Audit. Rebecca will be looking into how cultural safety can be represented in the physical space, which is important for all community serving agencies and should be integrated into the overall approach of service delivery. Cultural Safety "is an outcome that is based on respectful engagement which recognizes and strives to address power imbalances inherent in the health and social services system. It results in an environment free of racism and discrimination where people feel safe receiving health care." (Government of NWT 2016: 9)
Rebecca has held a graduate assistant role since 2018 with The Insurgent Architects' House for Creative Writing (TIA House), which has fueled her passion for issues related to antiracism and social justice. She has also published numerous poems and book reviews in literary journals across Canada and has served in board and editorial roles with literary and academic publications, including ARIEL, a journal specializing in postcolonial and human rights scholarship. Place and the environment are an important part of Rebecca's scholarly research, and she will defend her creative dissertation, a novel, alongside a critical analysis of this work in 2021.
Deadline and term
Placement postings for 2022 will be available the week of September 27, 2022.
May 1, 2021
The term of the fellowship is Spring/Summer 2022
The Public Humanities refer to a broad range of creative, scholarly, and/or social justice activities usually undertaken collaboratively between university researchers and members of different non-academic communities for the public good. These activities draw on the knowledge and skills of humanities disciplines (e.g., history, literary studies, languages, philosophy, classics, religion, etc.) and have clearly defined outcomes that benefit the public. With this new program, the CIH seeks to place Humanities doctoral students into local community and/or cultural organisations. Students will be paid through designated scholarships.
There are three main goals:
to provide each selected graduate student with an opportunity for acquiring new kinds of knowledge, experience, and professional relationships in a non-academic setting
to provide the partner organization with a highly skilled graduate-level humanities student to work on a partner-specified project in spring/summer 2021 for 12 weeks (at no more than 20 hours/week)
to cultivate strong collaborative networks for supporting arts, culture, and/or social justice in our communities.
To be eligible as a Public Humanities Fellow at the Calgary Institute for the Humanities, University of Calgary, you must be enrolled as a Ph.D. student in the Faculty of Graduate Studies in a humanities discipline during the year immediately preceding the appointment. Graduate students in Ph.D. programs can participate in internships related to the transferable skills they develop in their academic programs. Fellowship opportunities do not need to directly connect to a graduate student's area of research.
Application procedure
Scholars outside of the traditional humanities disciplines should make clear the humanistic orientation of their project.
Applications must contain:
The resume should summarize academic projects and achievements, work experience, skills, and university and community involvement. You may find it useful to look at the following handbook if you are wondering how to frame your skills for work in a non‐academic setting.
The cover letter should be no more than 3 pages (12 pt, double spaced) and address the following questions:
What draws you to the CIH Public Humanities Program?
Which specific position are you applying for and why? How would it fit into your graduate career trajectory? (If you are interested in more than one of the roles, we recommend you provide a separate cover letter for each, emphasizing how your skills make you the best fit for that position.)
What specific strengths, experiences (academic as well as non‐academic), and achievements make you a strong candidate for the specified position?
Is there any other relevant information you would like to share with the adjudication committee?
We seek two letters of reference, preferably from academic referees who are familiar with (and can speak to) your graduate studies trajectory, recent relevant achievements and experiences, and suitability for a Public Humanities Fellowship. Letters of reference for public humanities candidates should be sent directly to the CIH by email to cih@ucalgary.ca. Referees should be informed exactly which positions you are applying for, but only one letter per candidate is required; referees do not need to provide a separate letter for each role you are interested in.
 One letter must be from your supervisor (or prospective supervisor for students early in their program). This letter should also affirm that this project aligns with your program of study and does not conflict with your ability to complete your degree requirements.
 The second letter may be from an academic or non‐academic reference (i.e. a  representative of a community organization for which you worked or volunteered, if the experience is directly relevant to the position for which you are applying).