Calgary's Art Underground: Place | Time | Art | A Guide
For thousands of years before colonization, the nations who signed Treaty 7 including the Blackfoot Confederacy (the Siksika, Piikani, and Kainai First Nations), the Tsuut'ina First Nation, and the Stoney Nakoda (the Chiniki, Bearspaw, and Wesley First Nations), as well as members of the Métis Nation of Alberta, integrated visual and material culture into their daily lives to share stories about this land, Moh'kinstsis, the place now known as Calgary. 

Comparatively, Calgary's contemporary visual art history is only a blip in time, and it remains enriched by Indigenous voices. It began with and continues because of a robust group of dedicated do-it-yourself artists, arts administrators and arts supporters who believe art has the power to share and respond to people's most deeply held beliefs and values. This map represents an incomplete survey of many of the visual and media art initiatives that have shaped and, in some cases, continue to shape Calgary's vibrant and expansive art scene. I am grateful to all of the people who contributed this alternative art history. 
The map of Calgary's Art Underground is now available from local bookstores across Calgary.
Artist: Drunken Paw ( Mark Dicey, Leslie Sweder, Janet Turner) 
Writer: Diana Sherlock
Photographer: Dave Brown
Editor: Jim Ellis
Graphic Designer: Glenn Mielke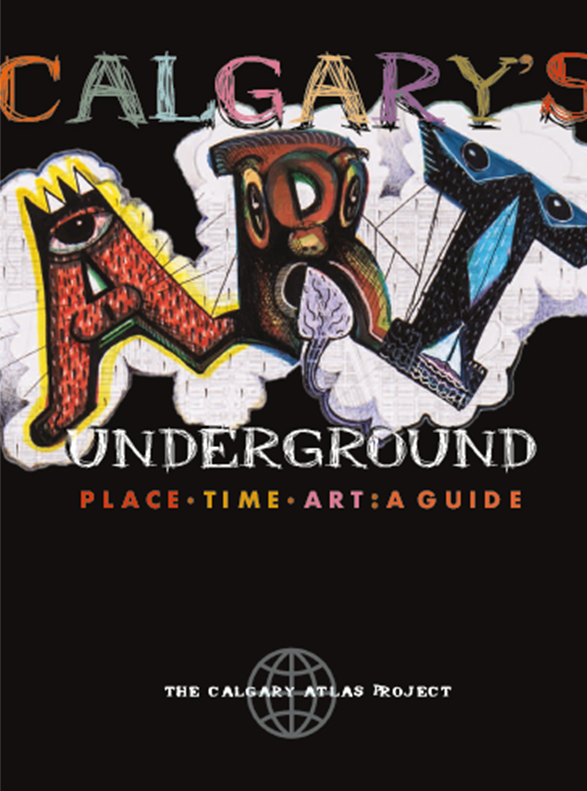 Drunken Paw is a collaborative trio comprised of three artists;
MARK DICEY, LESLIE SWEDER and JANET TURNER.
Three separate drawings are rotated between the three artists with each taking part in the conversation by reacting to what the others have previously expressed. The responses become automatic, primitive and at times transcendent as the momentum of the session builds. Eventually the group lands on some triangulation of a shared experience, the residual effect of this being a lush landscape both of their collective subconscious and the environment they are working in.
The public space the trio collaborates in is chosen for its atmosphere: the people, energy, sights, sounds and music. As a whole, Drunken Paw feeds off the rhythm and movement of the surrounding scene. The drawings, while not relational in and of themselves, become a visual record of relations — between the collective, their environment and an actively living audience.
DIANA SHERLOCK is a Canadian independent curator, writer, and educator, based in Calgary for most of her career. Since 1994 her curatorial projects have created opportunities for contemporary artists to produce and exhibit new work in response to specific collections, contexts, histories, and cultures of display. Most recently she curated the career survey, Mary Shannon Will: People, Places and Things, for the Nickle Galleries in 2020/2021. She has published over eighty texts in gallery catalogues and contemporary art journals internationally, and is the editor of Rita McKeough: Works, and Larissa Fassler: Viewshed, an artist's monograph forthcoming this summer from DISTANZ (Berlin).

Calgary Atlas Project Map Distributors
To pick up a printed version of a Calgary Atlas Project map please visit one of these local distributors.