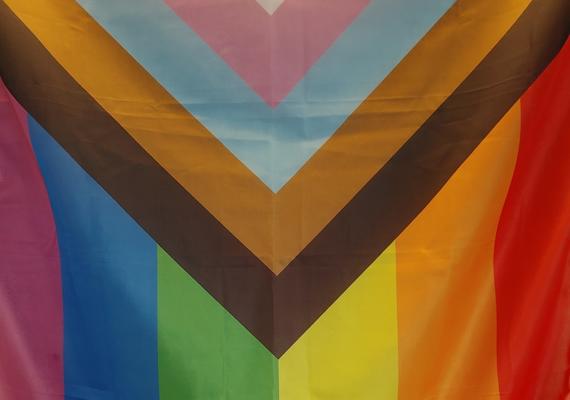 Welcoming Spaces
In June 2021, the Department of Geography's Graduate Student Association (GeoGSA) gifted the department this Progress Pride Flag as the first annual Welcoming Spaces gift. Each year going forward, GeoGSA will gift either a tangible object or an intentional action that helps individuals feel safe and included and also reaffirms that we embrace and seek to grow diversity.
Designed by Daniel Quaisar, the flag includes the six stripes of the traditional LGBTQ+ Pride flag. Also included are colours from the Trans flag, originally designed by Monica Helms. 
excerpt from the letter of explanation 2020-2021 GeoGSA Executive on behalf of the Geography graduate community
Excellence among educators recognized in 2022 Celebration of Teaching
University of Calgary Teaching Awards recipients demonstrate commitment to student learning...
In the News: Byron Miller, Geography, in The Calgary Herald
Bold Ambition, Sacred Cows and a Place to Belong: The Prospects for a Sustainable Downtown Calgary