Honours Program in the Department of Psychology
Interested in preparing for graduate school in psychology or another professional program (law, medicine, speech pathology, social work)?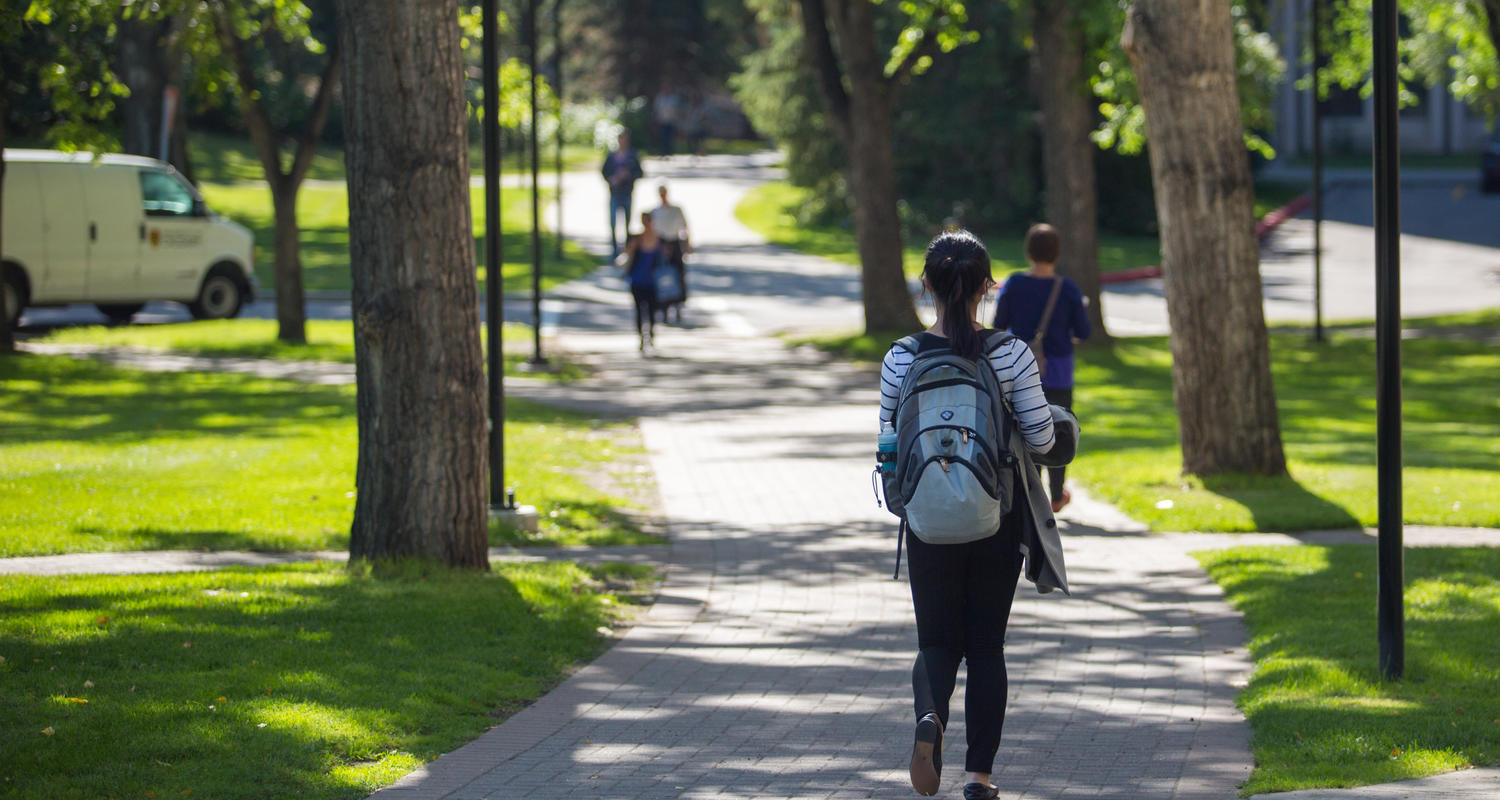 What is the Honours Program?
You'll complete a specialized set of degree requirements and conduct a thesis research project under the supervision of a faculty member.
Honours students also register in PSYC 598 (Honours Thesis and Seminar). The class meets twice a week during the fall and winter sessions. The major requirement is a written thesis that follows APA format and organization (with an abstract, introduction, methods, results, and discussion). You'll also give presentations about your research in the honours seminar and at the Annual Student Research Conference. The program requires a serious commitment to research during your final year.
Considering an Honours program? Find out if you're eligible. Be sure to discuss your plans with the department in the fall session before you formally apply. Contact us today
This criteria applies to Fall 2023 admission to the Honours program only.  
At least 72 units or 12.0 full-course equivalents (FCE) completed at the time of application
minimum grade-point average (GPA) of 3.5 over the most recent 42 units (7.0 FCE)
minimum GPA of 3.5 over most recent 7 (21 units or 3.5 FCE) Psychology courses.
Minimum grade of B+ average in PSYC 300 & 301 or  in PSYC 312 (or 407, 411 or 415) *if you took a CR in PSYC 300 or 301 please contact our office.
All remaining graduation requirements for the BA/BSc Honours degree can be completed during the following Fall/Winter registration period
Eligible thesis supervisor willing to supervise the honours thesis and resources available to complete the thesis
Minimum cumulative GPA of 3.3 over all major courses (PSYC courses) applicable towards the completion of the degree requirements to graduate with honours.
3 units from PSYC 400.XX, 415, 425, 427, 430, 435, 478, 504 or 505 completed or enrolled in one by application time. 
Signature from a faculty or adjunct faculty member confirming agreement to supervise applicant
Apply for a change of program via your student centre to add Psychology Honours to your program (by doing this it does not mean that you will get admitted to the program, you still have to submit an application to the Psychology Department).
Note: Admission to the Honours Program is competitive, and students meeting these minimum qualifications are not guaranteed admission to the program.
See how to calculate your GPA.
Note: GPA calculated for purposes of admission does not include grades from the Winter session in which the application is made.
Application package components
The following components make up your Honours application package.
1. Honours Application and Program Checklist Form
Note: your file name should read: "Honours application – Full Name UCID."
2. Transcripts
Direct-entry from high school or transfer student
An unofficial PDF of your transcripts (you should be able to get this via your Student Centre).
After-Degree (second degree) student
A transcript from all post-secondary institutions attended. 
Note: Your file-name should read: "Last Name UCID Transcript (Institution Name)."
3. Curriculum Vitae
A curriculum vitae or CV is similar to a resume that you might create to find summer employment, but it is more academically oriented.
Highlight relevant education, work, and volunteer experience.
Include any academic awards or honours that you have received (i.e., scholarships or medals).
Visit Career Services for information on how to prepare a CV. You can also find information online or at your local library.
Application process step by step
Potential supervisors
Learn about faculty available to supervise honours students during 2024/25.
Relational Self-Change and Revenge in Romantic Relationships. Supervisor Dr. Susan Boon

Two Meows Don't Make a "Cat"-egory: 7-month-olds Fail to Learn Intermodal Association. Supervisor Dr.Susan Graham.

Treating Sleep Disturbance in Adolescents with Protracted Recovery from Mild Traumatic Brain Injury. Supervisor Dr. Lianne Tomfohr.

The Effects of Belief in a Just World, Relationship Type, and Degree of Contact on Perceptions of Sexual Assault. Supervisor Dr. Melissa Boyce.

Cognitive Outcomes in Children with Primary CNS Vasculitis. Supervisor Dr.Keith Yeates.

Age of Onset in Older Adult Substance Abuse. Supervisor Dr.Candace Konnert

ERP Correlates of Audiovisual Asynchrony Detection. Supervisor Dr. Andrea Protzner.

Children's Comprehensive of Negation. Supervisor Dr. Penny Pexman.

Exploring the Outcomes of Workplace Impression Management Behaviours on Employee Perceptions. Supervisor Dr. Josh Bourdage.

Peer Feedback Ratings in Teams and the Role of Individual Differences. Supervisor Dr. Tom O'Neill.

Influence of HEXACO personality traits on experience of post-traumatic growth and post-traumatic stress. Supervisor Dr. Raymond Lamontagne.

The Vegetarian Personality: A HEXACO Perspective. Supervisor Dr. Kibeom Lee.

Examining Effects of Motor and Emotion Information in Children's Lexical processing. Supervisor Dr. Penny Pexman.

Examining Psychosocial Correlates of Health-Related Quality of Life in Young Pediatric Cancer Patients. Supervisor Dr. Lianne Tomfohr.

The Impacts of Screen Time on Child Developmental Outcomes. Supervisor Dr. Mike Boyes.

Mental Illness Stigma and Juror Decision-Making. Supervisor Dr. Andrew Szeto.

The Role of Friendships in the Experiences of Impostor Syndrome. Supervisor Dr. Cara MacInnis.

Experiences with Food and Eating Addiction: A Thematic Analysis. Supervisor Dr. Kristin von Ranson.

An Examination of Affective Forecasting and Coping on Short-Term Adjustment Following a Romantic Breakup. Supervisor Dr. Eddie Sheppard.

Cancer patient Use, Interest and Barriers to Complementary Therapies. Supervisor Dr. Linda Carlson.

Evaluation of a Vaginal and Sexual Health Workshop for Women Diagnosed with Cancer. Supervisor Dr.John Robinson.

Cyber Revenge. Supervisor Dr. Susan Boon.

Self-esteem as a Moderator of the Impact of a Failure Experience on Future Expectations. Supervisor Dr. John Ellard.

Examining the Potential Double Stigma of Ethnicity and Mental Illness. Supervisor Dr. Andrew Szeto.

Examining the Effects of Socioeconomic Status-Crime Congruency. Supervisor Dr. Melissa Boyce.

Examining Potential Prejudice Toward Older Adult Mobility Device Users. Supervisor Dr. Cara MacInnis.

A Discursive Study of Food Talk Among Undergraduates. Supervisor Dr. Hank Stam.

Stigma related to Mental Illness and the Fundamental Attribution Error. Supervisor Dr. Keith Dobson.

Psychological Characteristics Associated with Attentional Bias in Gamblers: An Eye-Tracking Study. Supervisor Dr. Dan McGrath.

Priming Attentional Biases in Women with High and Low Body Satisfaction. Supervisor Dr. Kristin von Ranson / Dr. Chris Sears.

The Effect of Personality Detection Training and Question Type on the Accuracy of Personality Detection in the Employment Interview. Supervisor Dr. Josh Bourdage.
Policies
Be aware of the policies pertaining to you as an Honours student.
Policy on Honours Supervision
Policy on Honours Admission
Psychology program questions?