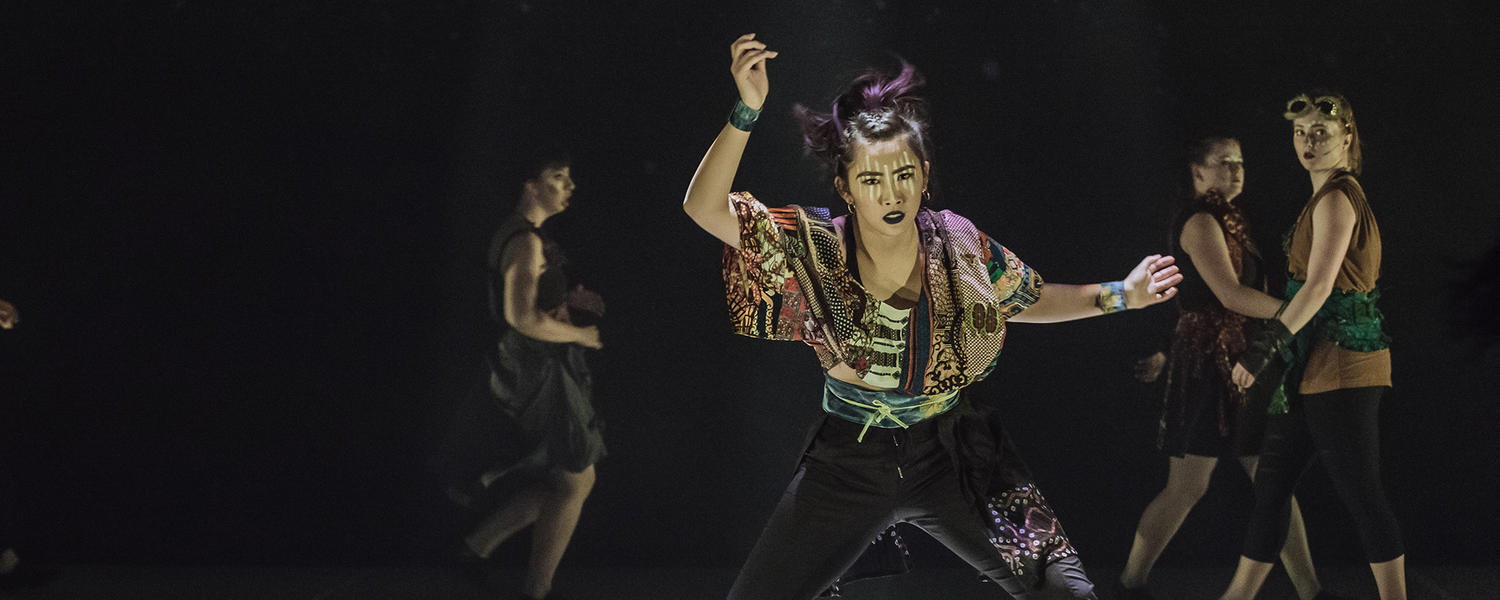 Guest Faculty Artist-in-Residence
Dance in the School of Creative and Performing Arts
Winter 2019 Guest Faculty Artist-in-Residence: Andrea Downie
Andrea Downie is the Founding Director of EnhanceDance, an initiative established in 2017 to share evidence-based best practices in dance training, performance and teaching. She is the Immediate Past President, Conference Coordinator, and a founding member of Healthy Dancer Canada, a non-profit organization dedicated to improving the health, well-being and performance of all dancers. She is HDC's longest serving Board member, instrumental in the development of the organization, and having served in every role within the organization since its inception in 2008.
A dance educator, choreographer and kinesiology instructor with 25 years of experience, Andrea received her HonBFA in Dance Performance and her MA in Dance Studies from York University. Her master's research focused on motor learning, and from it, she developed the Multisensory Pedagogical Model for Dance Skill Instruction to enhance dance skill learning. Andrea completed her professional training at Dance New Amsterdam (Dance Space Centre) in New York City, and performed with Jody Oberfelder Dance Projects while there.
Andrea is a certified Level 1 & Level 2 Conditioning-with-Imagery Training teacher and the C-I TrainingTM Course Director, providing the Level 1 C-I TrainingTM Teacher Courses & Certifications. She is one of only a few certified teachers of Simonson Technique in Canada. She is also a Registered Provider with Safe in Dance International for the Healthy Dance Certificates, and a third-party CPD course provider for Royal Academy of Dance Canada.
Currently based in Toronto, Andrea has experience working across Canada in post-secondary dance and kinesiology programs, secondary school dance programs, pre-professional dance programs, arts centres and private dance studios. She works actively as a teacher-tutor, choreographer, guest dance instructor, and speaker enthusiastically sharing her passion for dance with teachers and dancers of all ages, levels and abilities. Her choreography involves humanistic movement and themes that delve into various aspects of the individual and collective experience to explore what it is that makes us human. Her dance classes are intelligently-structured, founded on evidence-based principles and best practices, and integrate dance history. At all times, Andrea encourages somatic awareness, movement efficiency and effectiveness, and individual artistic expression within a safe, supportive and inclusive environment.
Past Guest Faculty Artists-in-Residence
Peggy Baker, Peggy Baker Dance Projects, Lar Lubovitch Dance Company, White Oak Dance Project, Canada
James Graham, James Graham Dance Theatre, United States
Iris Heitzinger, freelance choreographer, performer, teacher, Austria & Spain
Sasha Ivanochko, Ivanochko et cie, Canada
Milan Kozanek, Artyci Dance Company, Slovakia
Louis Laberge-Côté, Ballett Nationaltheater Mannheim, Canada
Charles Slender-White, Countertechnique master teacher, United States
Katri Soini, Helsinki Dance Company, Finland
Myriam Allard, La Otra Orillia, Montréal
Roy Assaf, Israel
Marc Boivin, Groupe de la Place Royale, O'Vertigo, Montréal
Alhassane Camara, West African Dance and Drums, Guinea, West Africa
Bill Coleman, Coleman Lemieux & Compagnie, Toronto
Kim Cooper, Decidedly Jazz Danceworks, Calgary
Heather Cornell, Manhattan Tap, United States, NYC
Paul-André Fortier, Fortier Dance Création, Montréal
Caroline "Lady C" Fraser, Calgary
Denise Fujiwara, Fujiwara Dance Inventions, Toronto
Noam Gagnon, The Holy Body Tattoo, Vancouver
Angela Gladue, Hip Hop, Calgary
Lizbeth Grunwez, Voetvolk, Belgium
Christopher House, Toronto Dance Theatre, Toronto
Molly Johnson, Le Carré des Lombes, Montréal
Martin Keogh, Contact Improvisation, Mexico
L-E-V, Israel
Henry Link, Elite Force Crew, United States
Brent Lott, Winnipeg's Contemporary Dancers, Winnipeg
Heather MacPhail, Forcier Stage Works, Toronto
David Raymond, Out Innerspace Dance Theatre, Vancouver
Manuel Roque, Cie Manuel Roque, Montréal
Paul Taylor Company, United States
Mohamed Tounkara, Tounkara Dance and Drums, Guinea, West Africa
Tentacle Tribe, Montréal
Tiffany Tregarthen, Out Innerspace Dance Theatre, Vancouver
Josh Martin, Company 605, Vancouver