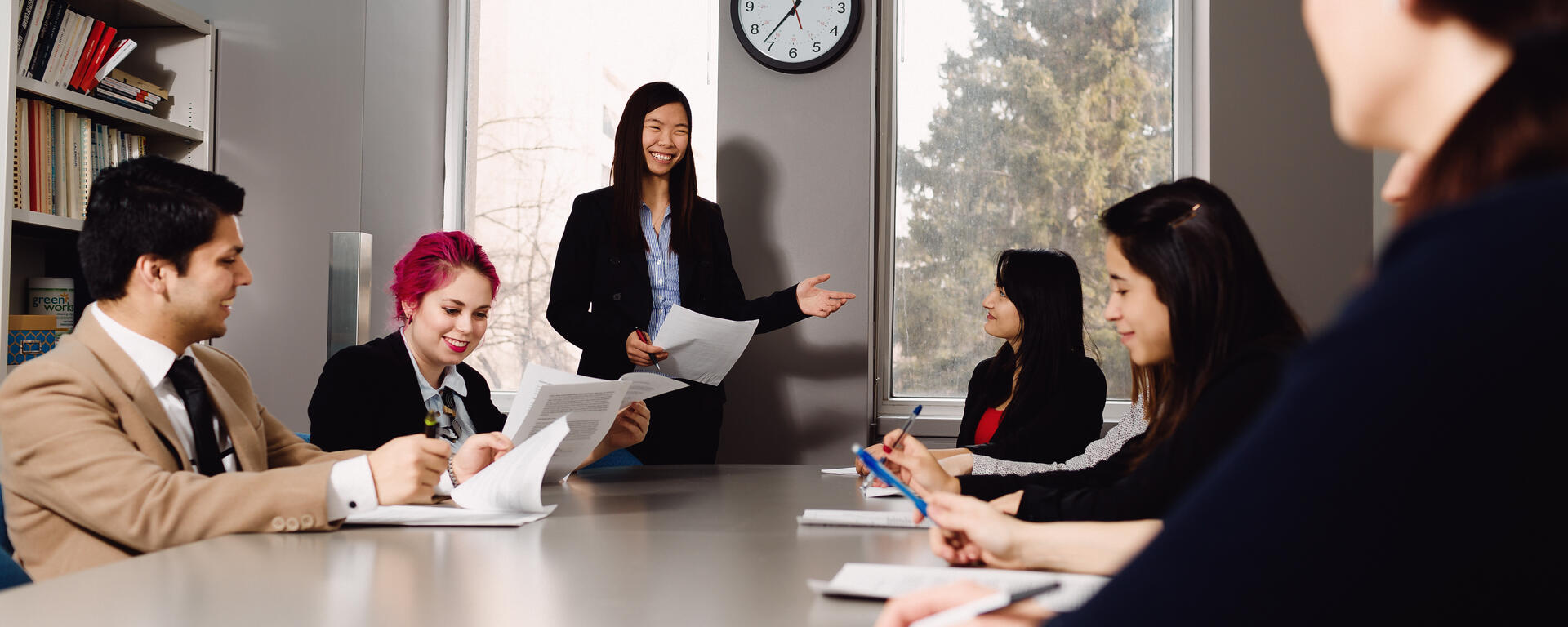 Co-operative Education Program for Employers
Capable. Valuable. Adaptable.
Solve your recruitment needs with arts co-op students.
The Arts Co-op advantage
Co-op students alternate full-time paid work with study terms while earning their degrees. They bring energy, innovation and a desire to learn to the workplace.
Arts student strengths
Co-op students are collaborative, creative problem solvers, ready to contribute to the workplace.
Recruit from a diverse group. Arts has nearly 40 undergraduate programs in a range of fields. Our students have strong multi-disciplinary perspectives, as well as specific areas of knowledge.
Students ready to go on work term are usually midway through their degrees. Some of our students also come with transferable skills from work and volunteer experiences.
After two years of post-secondary education, arts students have developed:
Communication skills: effectively organize thoughts in both written and oral form

Critical thinking: understand perspectives, ideas and connections to logically solve problems

Research and analysis: review data, determine reliability of sources, understand relevance and synthesize key points

Technical ability: papers, projects, labs and presentations require knowledge of many Microsoft Office applications. Some students have program specific skills such GIS and SPSS
Arts Co-op students are able to learn and adapt quickly and have been successful in multiple business areas such as:
Internal/external communications
Energy forecasting/analysis
Corporate security and compliance
Financial analysis
Mapping/civic planning 
Project /records/data management
Human resources
Logistics and event planning
Community engagement/development 
Research and report writing
Political/economic analysis
Legal/business administration
With more than two dozen areas of study to choose from, our students have a wide range of expertise. There's a great match for every employer. Some areas our students specialize in are:
Anthropology
Archaeology
Canadian Studies
Communications
Development Studies
Earth Sciences
East Asian Studies
Economics
English
Film Studies
French, Italian and Spanish
Geography
Germanic and Slavic Studies
History
International Indigenous Studies
International Relations
Latin American Studies
Law and Society
Linguistics
Philosophy
Political Science
Religious Studies
Sociology
Urban Studies
Visual Studies
Women's Studies
Recruitment cycle
Knowing the co-op program's recruitment cycle can help you plan when a co-op student would be a great addition to your organization. Please note that terms must align with UCalgary academic semesters.
Co-op students thrive with thoughtful employer engagement.
As an employer partner with the arts co-op program, we ask that you are committed to:
Offer a minimum of 30-35 hours a week for a period of 12-16 weeks (or longer)

Engage the student in productive, career-related work

Supervise the student and provide ongoing performance feedback

Participate in a worksite visit with a coordinator to assess the work term

Complete an online assessment of the student's performance