The Faculty of Arts values equity, diversity and inclusion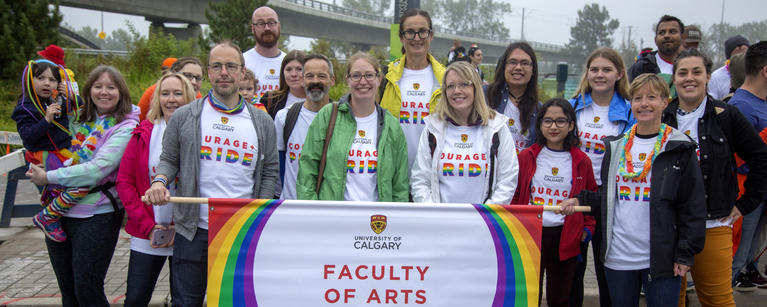 Equity and Diversity Committee
The Faculty of Arts' Equity and Diversity Committee works to fulfill the Faculty's commitment to build a genuinely diverse community in our Faculty and deliberately seek ways to increase equity and diversity in all of its facets. Diversity includes, but is not limited to, race, ethnicities, religions, gender identities, sexual orientations, abilities and backgrounds.
The committee engages in activities that:
Promote an inclusive institutional climate that reflects, respects and celebrates diversity.
Raise awareness of discrimination and unconscious bias among faculty, students and staff.
Support members of the Faculty of Arts who experience discrimination at the University.
Ensure training opportunities for mentoring all faculty toward tenure and promotion and over the course of their careers.
Provide resources for effective inclusive pedagogies that support the learning of all students.
Create awareness and a shared sense of responsibility among faculty, staff and students to promote a learning and working culture that values equity, diversity and inclusion.
Equity, Diversity and Inclusion are key components of the Faculty of Arts Strategic Plan.
2023-2024 Equity and Diversity Committee Members
Aruna Srivastava, Chair, Associate Dean, Pluralism and Inclusion
Saulesh Yessenova, faculty member, Department of Anthropology and Archaeology
Nancy Janovicek, faculty member, Department of History
Ryan Burns, faculty member, Department of Geography
Pil Hansen, faculty member, School of Creative and Performing Arts
Joe Kadi, faculty member, Women's Studies Program, Department of Philosophy
Andrea Protzner, faculty member, Department of Psychology
Erin Sutherland, faculty member, Department of Art and Art History
Leslie Salgado, graduate student, Faculty of Arts
Ruvimbo Mutyanda, undergraduate student, Faculty of Arts
Luis Armando Sanchez, undergraduate student, Faculty of Arts
Constantina Caldis Roberts, staff member (AUPE), Department of History
Rachel Bruce, staff member (MaPS), Arts Students' Centre
Statements on Recent Events
Statement from Arts Dean Richard Sigurdson
Statement from Arts Dean Richard Sigurdson
Statement from Arts Dean Richard Sigurdson
Learn more about Equity, Diversity and Inclusion in these Faculty of Arts units